Ground and Embody Yourself

7th, 14th,21st and 28th September 2021
19:30 - 21:00 GMT
Replay sent after each session
E-book for each session
Workbook for self reflection


£97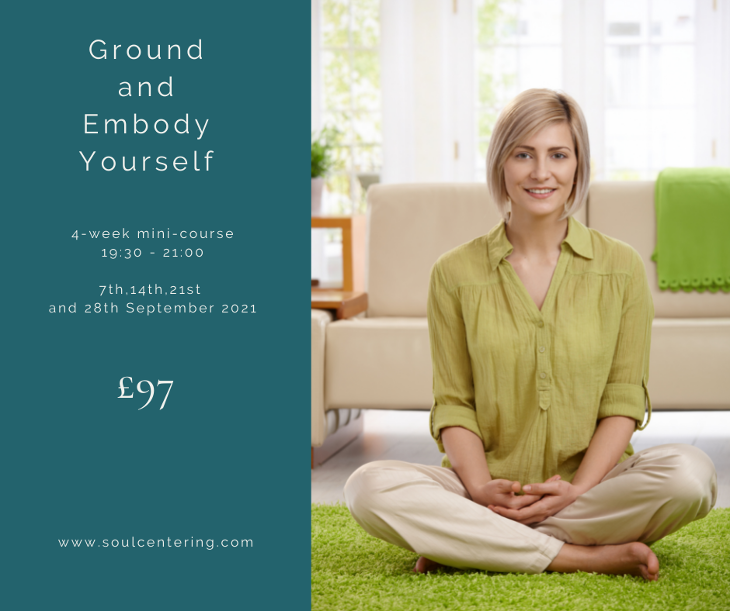 An inadequate or wrong grounding is the main reason we experience numerous health issues, have a reduced ability to heal and make progress on our spiritual path. This is a topic and a skill that requires thorough understanding and practice but unfortunately it is too often neglected or misunderstood.
This grounding course will teach you :
how to run proper electromagnetic circuitry in your body that will keep you out of harm of environmental pollution and negative energy of others
how to bring your lost energy into the body
how to release energy you have picked up from others
how to stop taking energy from others
stop giving them your energy
how to energize yourself
The workshop is at least 70% practical.
You will learn and practice various simple and accurate techniques that you will be using daily in order to retrain the electromagnetic and nervous system of your body to be properly connected so that you experience vibrant health and high levels of energy.
You will learn the following:
What grounding is
What does science says about grounding
Inflammation, free radicals, environmental pollution and immunity system
What grounding is not
Why is it so important
Why your grounding is ineffective
Correcting misconceptions and common mistakes
Importance of being accurate in grounding
How to connect with the Earth
Examples of being grounded in day to day life
Examples of being ungrounded
Why are you ungrounded
What can you do to be more grounded
Physical, mental and emotional grounding
What happens to the body if you do not ground
Why you cannot have an effective psychic protection without it
Why you cannot heal without it
Why you need to learn it if you wish to improve your channelling, psychic and healing skills
Learning what to do daily to retrain your nervous system to feel safe
How to tap into Earth's energy
How to release pain and hurt
Learning how to utilise the Earth energy wherever you are
How to physically ground
How to emotionally ground
How to spiritually ground
How to ground your chakras to drain and release the emotional pain and hurt
Using energy to relax cranial nerves and vagus nerve
How to release stress, negativity and energy of others daily
Cleaning the inside of you and bringing the fresh energy in daily
And a lot more....
Each week you will receive a different and beautiful PDF guide and workbook to give you knowledge, understanding, inspiration, motivation and day to day practice to prepare you for a session ahead.
This will not take ore than 30 min of your time if you do not want it to.
By the end of this course, you will have a thorough understanding of how to ground yourself.
You will have solid skills and techniques which you can use to manage your emotional, mental and physical energy.
This course is a foundation work that is essential if you wish to progress in any kind of energy, healing, psychics, mediumship, channelling, spiritual and therapeutic work.

Grounding is essential for sensitive, empaths, healers, therapists, health workers, nurses, those who are on a spiritual journey, unwell, experiencing challenging mental health, have inflammations, little-understood health conditions like fatigue syndrome and any other chronic health issue.
If you are sensitive, spaced out and ungrounded, have hyperactivity, or are neurologically diverse you will continually keep 'picking up', or you will be resonated/triggered by other people's energy as well as the environmental energy.
If you learn how to ground well, you can stop this from happening.
You are processing a lot more information on a much deeper level than those who are not as susceptible to energy.
When you are not grounded, you are vulnerable to various electromagnetic fields, organic and inorganic.
Confusion settles in because scrambled and chaotic internal frequencies are painful to bear.
We find a quick fix solution to numb that often indefinable pain by eating too much, drinking too much, shopping too much, using various substances and generally finding some way to numb the feeling of overwhelm and discomfort.
We are missing the feelings of joy, peace and happiness.
Our body and soul need to feel connected.
We are looking for a connection with ourselves and the world around us.
In the absence of these peak spiritual states, we are looking for substitutes or ways to numb that craving, still, regardless of what we do, that desire for a deep connectedness never goes away.
That is until we come to the energy work that provides the nourishment we need.
We need to heal the damage to our brains, nervous system, the energetic system including chakras and meridians before we can fully utilise our talents, skills and abilities. And, without a proper connection to the main generator, the Earth's core, and our body, we are unable to flourish and experience the lightness of being in our spiritual core. Grounding is fundamental to regaining our fully health and well-being.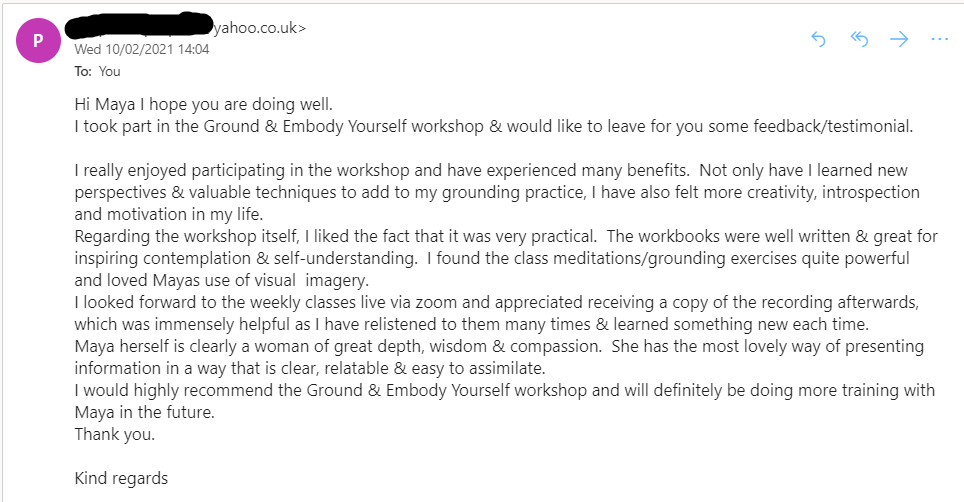 © Copyright SoulCentering